Christian Carmello Fabri 
Student of the MBA in Arts&Cultural Management program
Curator of 120 minutes of nature per week
Date: February 21-26th, 2023
Opening February 21st from 6:30-9:30 pm
Adresse: IESA gallery, 1 Cité Griset
"Nature has always fascinated me with its beauty, wonders, covert and overt benefits. Unfortunately, there is little serious work at the decision-making levels for its preservation, coupled with minimal public awareness of the importance of environmental sustainability.
As I myself love to spend time in nature, I invite you all to revisit your thoughts concerning nature, home to all humanity. When we spend time in nature, we should not only be observers but also cognizant of the consequences of our actions toward it." 
                                                                                  Christian Carmello Fabri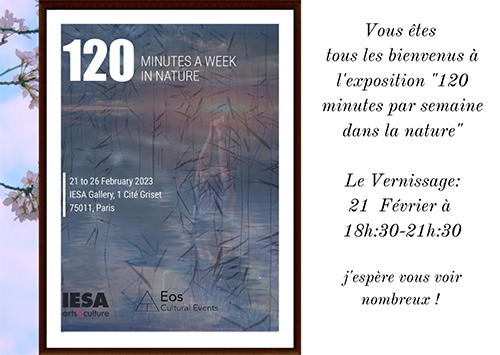 The title of the exhibition "120 minutes a week in nature", was inspired by scientific research that revealed strong association between spending this time a week in nature and human mental and physical wellbeing. The exhibition features five emerging artists who examine our relationship with nature from different perspectives using different mediums and techniques. They share a special connection with, and commitment to nature, as well as a concern for the repercussions of human activity on our natural world.  Their displayed works are a call for making ecological awareness of the preciousness of our Mother Nature part of a collective consciousness.
Through this exhibition I intend to provide visitors with a space to rethink our relationship with nature, its various benefits, its preciousness as a source of all life and of our basic human rights. I hope it will instigate greater awareness and discussion of our interconnectedness with nature, the need to engage in it and to acknowledge our role and duty in preserving it. 
"It is in man's heart that the life of nature's spectacle exists; to see it, one must feel it." 
                                                                                                                 Jean Jacques Rousseau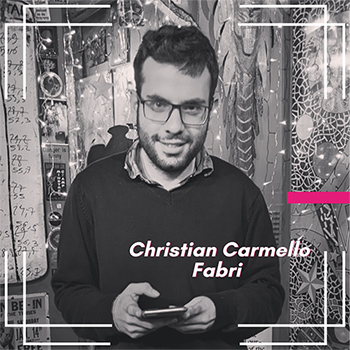 Curatorial Statement
Amidst increasing threats to our natural world resulting in large part from human activity, coupled with an increasing concern for environmental sustainability, this exhibition is a humble contribution to the ongoing efforts by artists worldwide to raise awareness on nature's beauty, its benefits, and the pressing need to protect it. Through providing the viewer with a sensorial experience and engagement, this exhibition is an invitation to the public to rethink about their relation with and behavior towards nature. 
This exhibition displays the works of five artists whose works reflect commitment to sustainable development and the role of art in helping achieve it. Inspired by nature, and/or by the threats posed to it, they use different art forms and mediums to express their vision and appreciation of nature, their concern for it, and the messages they want to send out. Displayed works include photographs, vegetal and natural sculptural installations, as well as textiles and jewelry "the wearable sculpture". Their works tackle issues of nature's resilience and response to human activity and control, the intertwining and interdependence between nature and man, nature's beauty, protection of forests and the marine life. Through portraying the arts' continuous confluence with poetry, philosophy and science in service of the natural world and its inhabitants, and engaging the viewers, this exhibitions echoes international calls for the preservation and protection of our natural world, especially those embodied in the often forgotten World Charter for Nature. 
Participating artists: 
Mme Estelle Chretien

Mme Morgane Porcheron
M. Emeric Chantier
Mme Silvana Mc Nulty
Mme Cecilia Martinez Amanzi