ACADEMICS
ACADEMIC CALENDAR / ASSESSMENT
Dates of start and finish of semesters depend on the study track and language (French or English). Instruction starts between mi-September and mid-October ending in January of the next calendar year. Spring semesters begin in January and end in May or June. Please consult admissions team for more details.
Oral and written exams take place one or twice in the semester, depending on the curriculum. In addition to exams, continuous assessment includes homework, essays and group projects carryout in the semester. Graduation group projects are carried out at the end of the curriculum. Our MBA and BA level courses in English include a thesis (individual or in pairs).
Students must earn 30 ECTS per semester to validate their studies.
STUDY, WORK, LEARNING BY DOING
IESA students typically work as an intern during their academic year or choose to find employment as professional in "alternance". Students find internships with Parisian art dealers or collectors, in art galleries, museums, music festivals, online businesses or with antiquarians thanks to IESA's dense professional network. Throughout their studies, they meet professionals in a variety of sectors: museum curators, conservators, directors, gallerists, artisans, art experts, production managers in music, theatre, or cinema, and cultural mediators.
Arts and Performing arts management are put into practice during the year at IESA where a gallery on the ground floor is dedicated to temporary exhibitions organized by students. IESA's auditorium seats 130 and is used for student projects including concerts, film festivals, and conferences.
COURSES TAUGHT AT IESA IN ENGLISH AND IN FRENCH
IESA runs an accredited 3-Year Bachelor in Arts Management (Bachelor 1st year, 2nd year and 3rd year) and offers several accredited one-year MBA. IESA has designed a Premaster semester bridging the 3 year Bachelor students to our MBA programs.
Programs taught in French include 3 year Bachelor programs, 2 year Master programs and Professional Master programs. 
Students graduate with an accredited Title (Level 6 or 7) diploma from the RNCP. 
PROGRAMS IN ENGLISH
Pre-master : The Pre-Master program is a one-semester bridge program, taught in the Fall and Spring semesters who have completed a 3 year Bachelor degree. This program includes classes in event management, business skills, audience development strategies, organizing a film festival, art history, contemporary design, performing arts practices. The semester also includes a study trip to Florence or Milan.
MBA PROGRAMS
PROGRAMS IN FRENCH
IESA offers the following programs in French focusing on art history, art management (collecting, curating, selling and purchasing), marketing and digital marketing, cultural heritage management, art administration, the production of festivals (music, cinema), and business skills for arts managers. Optional study trips to European destinations (such as Rome, Florence, Berlin, London).
Our BAs last three years; professional BAs last one year. Master's degrees last two years. 
For our one year programs, see www.iesa.fr « FORMATIONS PRO. »
FRENCH LANGUAGE CLASSES
We currently have a French-survival class. There are numerous schools for learning French as a foreign language (or FLE, "français langue étrangère") in Paris.
IESA staff can help interested students find the best option.
A preparatory year in the French language with our partner La Sorbonne is also possible.
FACILITIES
IESA arts&culture is located near Place de la République in the Ménilmontant-Belleville neighborhood.
Metro stations:
Parmentier (line 3) / Ménilmontant (line 2).
Bus: line 96 and line 20.
Visit the school and walk in virtually from its lobby and garden to the upper floors by going to www.iesa.fr/ecole and scrolling down to "Visite virtuelle de l'établissement"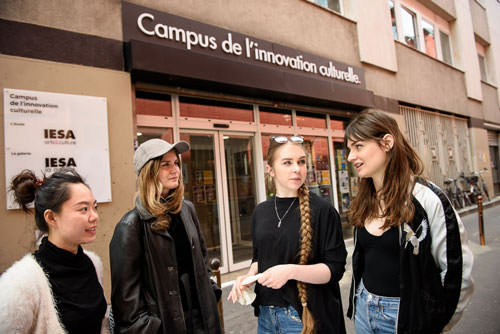 STUDENT LIFE
COSTS OF LIVING
Exchange students from our academic partner institution do not pay any administrative or tuition costs to IESA arts&culture. They receive a student's card issued by IESA, which gives discounts in numerous venues. If you come from the E.U., you need your European student card. Otherwise private health insurance is required.
Housing: 500-1100€ / month for one person
Transportation pass for Paris and surroundings: 75€/month (Navigo pass : all metro lines, buses, tramways)
Museums: municipal museums (Carnavalet, Petit-Palais, etc): free
National museums (Louvre, Orsay, etc): free under 26 for E.U. citizens
Temporary exhibitions: costs vary
Approximate costs for entertainment: cinema: 6-12€
Theatre / concerts: 10-100€
Restaurant meal: 20-50€
ACCOMMODATION
IESA has no facilities for housing students but we have agreements with several companies specialized in short-term accommodation. We provide a list of options for students to choose from: staying with a Parisian host family (FranceStay), getting a shared room in a students' residence, single-occupancy furnished studios, and shared apartments (studapart.com). Costs of housing vary between 500€ and 1100€. The French State (CAF or Caisse d'allocations familiales) grants international or French students a rebate on monthly rents (paid after one or two months of stay). You need a French bank account. See this guide for applications. 
The staff for international programs can direct students according to their preferences.
VISA / ID REQUIREMENTS
No visa is required for citizens from E.U. member countries to enter France. Citizens from other countries do need a visa. Admitted students will get an acceptance letter from IESA. Other necessary documents for your visa can differ according to countries; correct information can be obtained at the respective French embassies and consulates (or on their websites).
CONTACT INFORMATION
Incoming and Outgoing Exchange Contacts
Coordinator of International exchanges
Pauline Schneider
+33 1 73 54 13 26
Programs in English
Head of the International Department
Cynthia Cervantes  
+33 1 73 54 13 30
Programs in French
IESA Deputy Director
Anissa Abdellatif
+33 1 73 54 13 16