Contact information
Incoming and Outgoing Exchange Contacts
Coordinator of International exchanges
Pascale Rihouet
+33 1 73 54 13 26
Programs in English
Head of the International Department
Cynthia Cervantes  
+33 1 73 54 13 30 
Programs in French
IESA deputy director
Anissa Abdellatif
+33 1 73 54 13 16 
Academic information
Levels: BA, MA, MBA
Academic courses: in English (Pre-Master; 5 MBAs) and in French (BAs, MAs). Optional study trips. See FAQ.
Professional development: possibility to participate in fairs, exhibitions, multi-media projects, and performing art events
Internships: Students must find their own internships but IESA facilitates the process
Credits to be earned: 30 ECTS / semester. 
Academic calendar: beginning of Spring semester: February  /  beginning of Fall semester: September. Exams take place at the end of the semester. Final exams are waived in case the instructors choose a system of continuous assessment.
Registration
Erasmus students nominated by their institution fill out an OLA (Online Learning Agreement) using Dashboard.
Other exchange students need to be nominated by their institution whose coordinator facilitates the registration process. 
Deadline for nominations to be sent: June 1 (for the Fall semester); November 1 (for the Spring semester)
Location
: near Place de la République; Ménilmontant-Belleville neighborhood. Metro stations: Parmentier (line 3) / Ménilmontant (line 2); bus: no. 96.
A stone's throw from the intersection of rue St-Maur and rue Oberkampf, IESA arts&culture is located in a neighborhood popular for its cafés, artists' studios, small shops, artisans, and street art. Walking distance to a major Parisian attraction: the cemetery of Père-Lachaise
Facilities
Visit the school and walk in virtually from its lobby and garden to the upper floors by going to www.iesa.fr/ecole and scrolling down to "Visite virtuelle de l'établissement".
Costs
Exchange students do not pay any administrative costs.
Housing: 500-1100€ / month for one person
Transportation pass for Paris and surroundings: 75€/month (all metro lines, buses, tramways)
Museums: municipal museums (Carnavalet, Petit-Palais, etc): free; National museums (Louvre, Orsay, etc): free under 26 for E.U. citizens; temporary exhibitions: costs vary.
Approximate costs for entertainment: cinema: 6-12€; theatre / concerts: 10-100€; restaurant meal: 20-50€.
IESA issues a student's card to exchange students. This gives you discounts in numerous venues. If you come from the E.U., you should bring your European student card.
Accommodation
IESA has no facilities for housing students but we have agreements with several companies specialized in short-term accommodation. We provide a list of options for students to choose from: staying with a Parisian host family, getting a shared room in a students' residence, single-occupancy furnished studios, and shared apartments (studapart.com). Costs of housing vary between 500€ and 1100€.
The staff for international programs can direct students according to their preferences.
Visa / ID requirements
Citizens from EU member countries do not need a visa to enter France.
Citizens from other countries do need a visa. Once the Learning Agreement is signed by both the sending and the host institutions, students will get an acceptance letter from IESA. Other necessary documents for your visa can differ according to countries; correct information can be obtained at the respective French embassies and consulates (or on their websites).
FAQ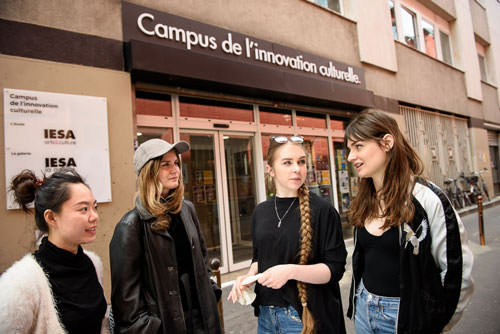 Your institution in a nutshell?
IESA arts&culture is a private institution of higher education located in the center of Paris, specialized in the management of the arts (art markets; art curation; performing arts; cultural mediation). IESA (Institut d'Etudes Supérieures des Arts) hosts about 700 students, 100 of which attend the courses of IESA International, the department that delivers courses and degrees in the English language. IESA education methods combine the critical study of works of art with the acquisition of practical skills for students interested in the management of art and cultural heritage or the performing arts.
What courses delivered in English do you have?
We currently have a Pre-Master program (one-semester long, rolling) for students who have completed two or three years of study. The Pre-master covers the following classes: event management, business skills, audience development strategies, organizing a film festival, art history (18-19th c.), contemporary design, Performing Arts practices. It includes an optional study trip.
For postgraduates (MBAs), we have five programs of a one-year duration in Arts and Cultural Management, Art and Luxury Management, Collecting, Contemporary Art, and Performing Arts. Two-to-three study optional trips.
What are the courses delivered in French?
IESA arts&culture has four study tracks in French: Art Markets, Communication, Cultural Production, and Socio-Cultural Mediation. We deliver classes in art history, art management (collecting, curating, selling and purchasing), marketing and digital marketing, cultural heritage management, art administration, the production of festivals (music, cinema, theatre), and business skills for arts managers. Optional study trips to European destinations.
See www.iesa.fr for details on our BAs and MAs. 
Do you deliver French language classes?
We currently have a French-survival class. There are numerous schools for learning French as a foreign language (or FLE, "français langue étrangère") in Paris. IESA staff can help interested students find the best option. 
Methods and timing of assessments?
Oral and written exams take place one or twice in the semester (depending on individual teachers). In addition, students typically present dossiers on a specific topic during the semester.
Several courses require a final project to be performed or installed (e.g. an exhibition with tours and a catalogue). At the discretion of teachers, continuous assessment may apply instead of a final exam. 
Levels taught at IESA?
For the French tracks, we distinguish between Bachelor 1, Bachelor 2, and Bachelor 3 (third year of an undergraduate degree), M1 (fourth year of a European BA) and M2 (second year of a two-year MA or, for European degrees, first-year of postgraduate studies).
For the English-language tracks, IESA International delivers MBAs in one year (for students have an undergraduate degree) or one year and a half (for students who need to complete their undergraduate studies).
Full-time students may graduate with a State-approved "titre", a certification of professional status in one of the following categories: Administrator of cultural projects, Expert in the commercialization of artworks.; Manager in art marketing; Supervisor in the production and mediation of cultural projects; Head of administration of a cultural enterprise; and Supervisor in the production of artistic projects.
What assets does IESA offer?
IESA students have numerous opportunities for networking. They meet professionals in a variety of sectors: museum curators, directors, gallerists, artisans, art experts, production managers in music, theatre, or cinema, and cultural mediators. 
Art management and Performing arts management are real practices at IESA premises where a ground-floor room is dedicated to temporary exhibitions organized by the students themselves. In addition, an auditorium seating 130 allows for performances by non-professionals and professionals alike and serves as well as to project films