Explore the transformative exhibition "Amar: Thoughts Brought to Life by Ideas" at the IESA arts&culture gallery.
Artfully curated by our MBA Art & Luxury Management student, Raj Rathod. 
AMAR: A dynamic platform amplifying the voices of budding fashion designers; showcasing their diverse creative expressions through their streetwear.The term "AMAR", has been carefully chosen by the curator to symbolize the timeless nature of fashion designs. The exhibition that was held in IESA arts&culture in the heart of Paris, emphasized that designs that transcend temporal trends establish a lasting mark in the ever-evolving world of streetwear.
Rathod envisioned this pop-up as a platform that would bridge the gap between emerging artists and a wider audience. By providing a unique space for aspiring designers to flaunt their innovations and passion for the craft, AMAR nurtures the next generation of fashion leaders.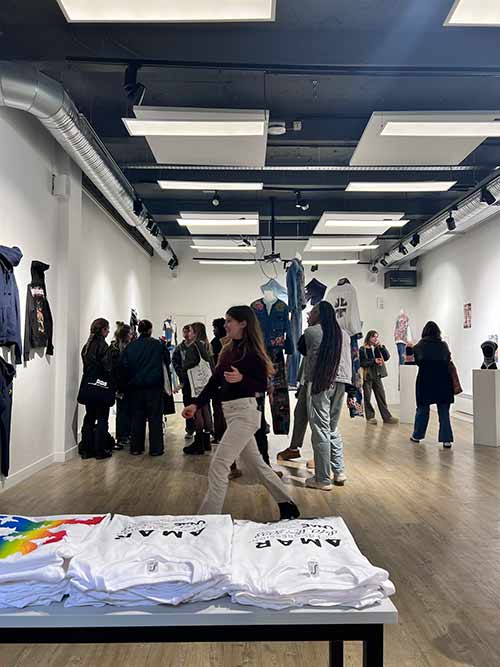 AMAR captivated its attendees with a fusion of diverse styles, each design representing the thread of immortality intricately woven into the fabric of creativity. It's a celebration of the relentless love for fashion and an ode to the undying spirit of emerging designers.
"I am thrilled to provide a platform for emerging designers to showcase their talent and creativity. AMAR is a testament to their dedication and passion, and we're excited to share their unique designs with the world." Raj Rathod
Immerse yourself in an experience delving into individual narratives and artistic expressions shaping the contemporary streetwear landscape. AMAR represents the unending enthusiasm for fashion and the remarkable journey of aspiring designers making their mark in the industry.
Sustainability lies at the core of the vision for this pop-up, the pieces on display included upcycled Levi's as well as eco-friendly fabrics, defining fashion with a purpose.
Discover more about our Bachelor and MBA programs here.