SAVE THE DATE /  APRIL 2023: DANIELA PROST & ALICIA PAZ
Our Bachelor in Arts Management students are curating an exhibition in our gallery from 26th-29th April showcasing artists Daniela Prost and Alicia Paz
Performance and vernissage: 5:00- 8:00 pm Saturday April 29, 2023.
1 Cité Griset, 75011 Paris, France
Within the framework of the mounting exhibitions class taught by Lassla Esquivel, Art Historian and Curator, our bachelor students have developed a curatorial proposal and invited artists Alicia Paz and Daniela Prost to present their work in dialogue. These two Mexican artists have been developing their practice in France for many years, their works exploring a complex materiality and different approaches to image making, each in her own way. A performance by Daniela Prost's collaborators, the Convergence group, as well as a conference by Alicia Paz, will be added to the exhibition.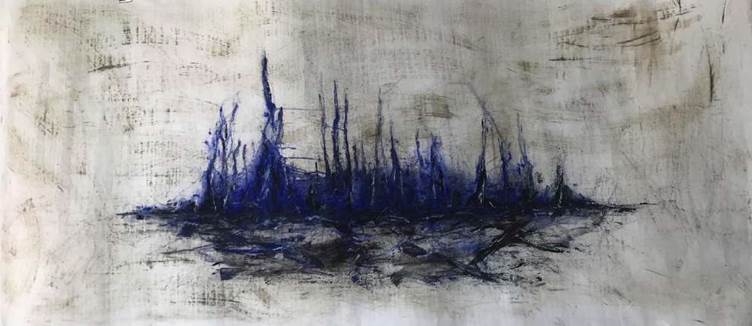 Pigments, ink, gesso on paper 100 X 240 cm
Daniela Prost: Bio
French-Mexican visual artist and video maker, settled in France in 1995. The distance with her country of origin allowed Daniela Prost, to devote herself in a more demanding way to her artistic career. She studied drawing at the Beaux-arts de Paris under the direction of Jean Zuber and Philippe Planchet.
"Each painting, she says, is for me a universe in which I die and live intensely. Daniela Prost works with simple materials, creating compositions that border on abstraction. She pursues her artistic approach by mixing her roots with her personal history through philosophical concepts.
In 2008 she won the first prize of painting of the City of Paris. In 2009 the National Museum of Kiev, Ukraine, gave her her first solo exhibition. She currently exhibits internationally."
                                                                                                                                         Françoise Liffran Writer and Journalist
"Her country of heart: Mexico. Her land of adoption for over twenty years: France. An explosive cocktail that the visual artist Daniela Prost distills through a work made of fractures, ruptures and sweet melancholy. In the light of her paintings, her videos, her drawings or her installations, an often fragile balance is revealed, oscillating between the madness of lucidity and the unfathomable temptation of desire. Let's even talk about plastic sensuality sometimes omnipresent when a theme like "The Little Death" (January 2017, Cultural Institute of Mexico) comes to graft itself to the underlying eroticism of his work. A pleasure of the senses keenly shared. "
                                                                                                                                          Harry Kampianne (La Gazette Drouot) 
Alicia Paz: Bio:
Alicia Paz is a London-based painter and sculptor who studied MA Painting at the Royal College of Art in 2008 and the Postgraduate Diploma at Goldsmiths College London in 2000. She is also a graduate of ENSBA in Paris.
Born and raised in Mexico, before living in the United States, France and now the United Kingdom, Alicia's work is inspired by her personal experience and offers a reflection on transcultural representation, particularly that of women. Through her paintings and sculptures, Alicia explores cultural hybrids, representations of family, and the complexities of kinship and filiation in a globalized world. Her work often incorporates elements of the applied and decorative arts as a tool to interweave narratives and explore complex subjects such as displacement and identity. Illusion and materiality, as well as ornamentation, are prominent in her work.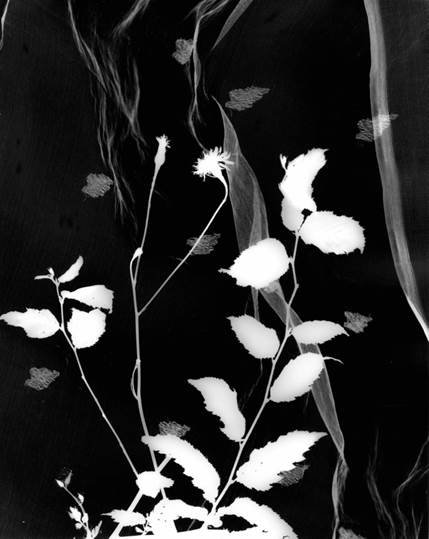 Photogram, Ilford satin paper,30x24 cm, 2022, Alicia Paz
Most recently, Alicia Paz has been researching the historical collections of Chatsworth House in Derbyshire, UK. In consultation with their curatorial team, Paz examined paintings, sculptures, textiles, decorative arts, jewelry, and the gardens of Chatsworth House. This period of research inspired her to develop a new body of work using the photogram technique. During her current residency at the Center for Print Research at the University of West England in Bristol, she is exploring "translations" of these photographic images into printed fabrics and other media, arranging them as a suspended labyrinth of interrelated images, constituting a rich dialogue between painting, photography, printmaking and sculpture.
The product of this incredibly fertile period is imagined as a "giant collage, a hybrid meta-work," to quote Alicia herself. The works encourage a sense of déjà vu, similar to contemplating the refractions of a crystal, or drops of ink in ever larger circles. Through repetition, layering of images and the resulting complexity, the viewer's perceptions are altered.
From a 2023 text by Sash Giles, Curator of Decorative Arts, Devonshire Collections, UK
Approaching her project almost as the creation of a theatrical set, Paz wanted to use contemporary materials that could reference a complex history, incorporating various forms of ornamentation, and that could present versatile possibilities in terms of inhabiting a space. Botanical elements also figure prominently in this new body of work, emphasizing the importance of the land and the relationship Chatsworth House has with the natural world around it. A selection of new works from this project will be presented at IESA.
Lassla Esquivel Durand: Director of Programs, IESA
Art historian, curator and researcher. In 2016, she founded Periferia Projects, a curatorial platform that creates connections between emerging markets, the UK and Europe. Some of the institutions she has worked with are L'Art Pur Gallery (Riyadh); House of Artisans (Abu Dhabi); Maison de l'Amérique Latine (Paris); Beecroft Art Gallery, (Southend-on-Sea); 20-21 Visual Arts Centre (Scunthorpe); Vortic (London); Art Paris; City of Paris; Barbican Art Center (London); Edge of Arabia (London) among others.