Heart of the Underground," an enchanting Paris autumn evening event that promises to ignite a cultural revolution within the world of performing arts.
Through this exhibition, the vision is to celebrate and uplift the often-unseen talents of amateur performing artists from diverse backgrounds and disciplines. This captivating event will showcase the power of storytelling through a series of call-and-response actions, as five multicultural artists break down expectations of genre and style, culminating in an authentic and unforgettable experience. Allow us to share our story and passion, as well as shed light on the significance of this cause and how your support can make a lasting impact.
Date: 28/09/2023, 6:00 PM
Address: L'impasse Bar, 4 Cité Griset, 75011, Paris
PRESS RELEASE
August 2023
Heart of the Underground: "A Performing Arts Journey Into Amateur Artistic Expression"
Our event, Heart of the Underground, is a Paris evening event that shines a light on thepower of amateur performing artists from diverse backgrounds and disciplines. Focusingon storytelling with five multicultural artists breaking down expectations of genre andstyle to create something truly authentic through a series of call and response actionseach echoing their individual experiences of being othered and feeling unseen.
"How do we open our audience's minds regarding amateur artists and their talents? Bychallenging their point of what and who an amateur artist is"
Artists: Alejandra Álvarez, Guevaru, Kaïzo KM, Kaline Prouveze and Alexa Weiss
Date: 28th September, 2023
Hours: 6PM - 10PM
Location: L'impasse 4 Cité Griset, 75011 Paris
The Artists: 
Kaïzo KM, Rapper
An up-and-coming young rapper, Arthur, writes about hisexperiences as a lesser known musician and the richness ofwhat the struggle can bring to art. Though he oftenperforms internationally, you can catch him every secondTuesday of the month performing at FAT BAR in Paris.
Alejandra Álvarez, live painter
Alejandra (she/her) born in Colombia, lived in Italy for 5years before arriving in Paris to study business and supporther developing career as a painter. She is a proud member of the LGBTQIA community and an infectious, big heartedaddition to any space she finds herself in.
She is lookingforward to turning a static art into a performance.
Alexa Weiss, Dangdut Singer
Alexa is an Indonesian singer currently living in Paris. Shemoved from Indonesia to Paris in hopes of furthering herpassion and to expand her audience internationally. Hertrue passion in song genre is dangdut.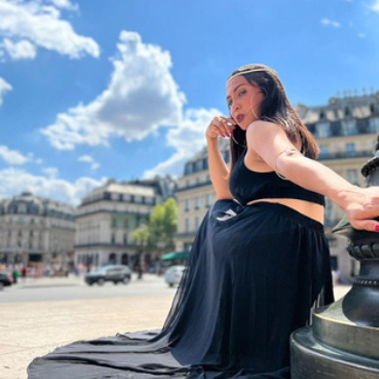 Guevaru, DJ
His musical journey began in the vibrant streets of Paris,where he was exposed to a diverse range of musicalinfluences.
The early fascination with rhythm and sound ledhim to experiment with various genres before finding mytrue calling in electronic music. Drawing inspiration fromthe city's dynamic nightlife and cultural diversity.
Kaline Prouveze, Dancer
Kaline is a dancer that specializes in how her movementpractice can be inspired by Electronic music. Currently, sheis exploring new ways of enhancing performance throughwaacking and robotic movements.
Program: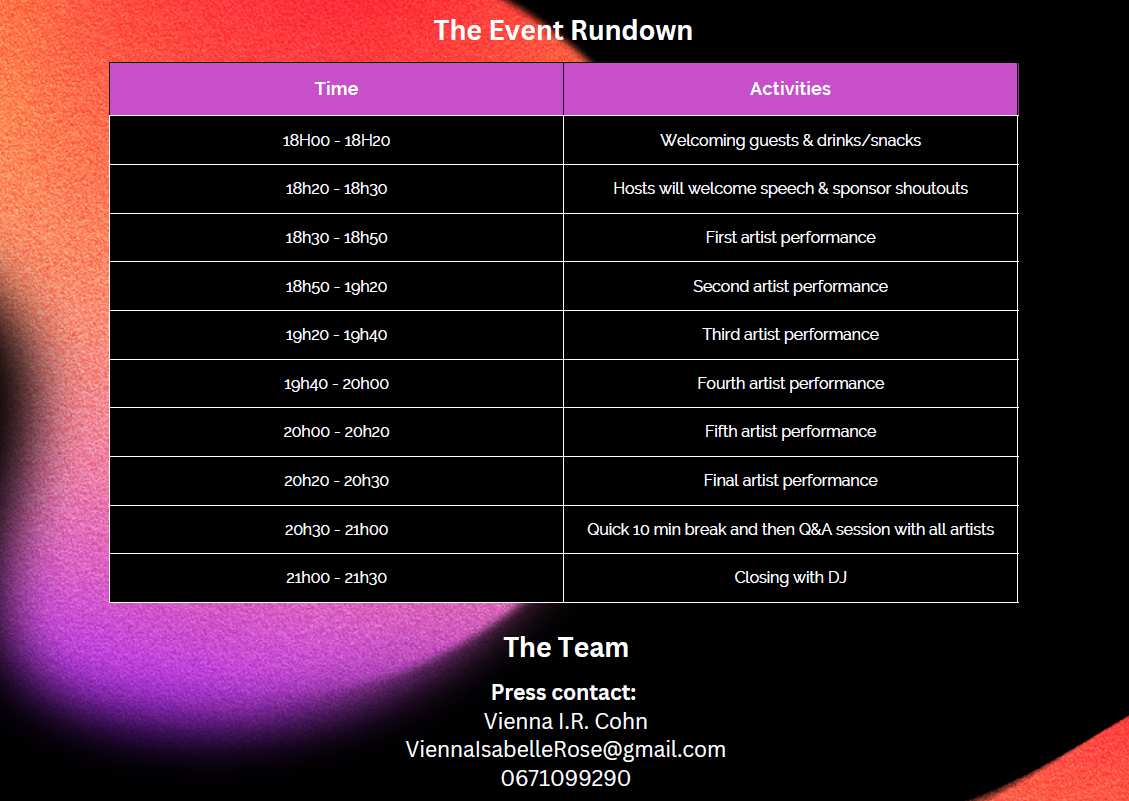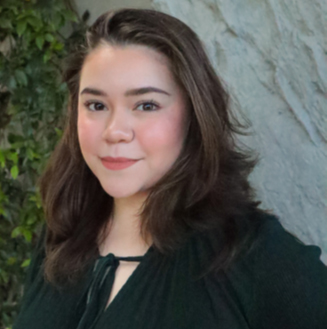 ARTISTIC DIRECTION & CURATORIAL STATEMENT
Pamela Chelsea Taroreh
"As an artist, it is my absolute dream to give other artists a platform to share theirpassion with the world. This event is all about giving people second chances."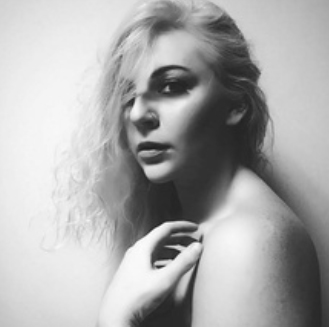 MARKETING & COMMUNICATION
Vienna I.R. Cohn
"I feel honoured to be able to challenge our artist in new ways and allow theaudiences to witness whatever creations and collaborations evolve from the underground."
FINANCE & PRODUCTION MANAGEMENT
Charlotte Cai
"My culture as a Chinese woman has taught me how precious the honour to make art can be. In my country, it is not always valued in the same way as my experiences have taught me so I feel blessed to be able to help disseminate it here."
ADMINISTRATION
Tiantian Yang
"I'm from Shanghai, China. After working in media and marketing, I find my passion in different areas. I love the preciseness in business, the creativity in arts and collaborating with people. Through studying in performing arts management and working on this project, I hope to create something amazing and impactful with the team together!"