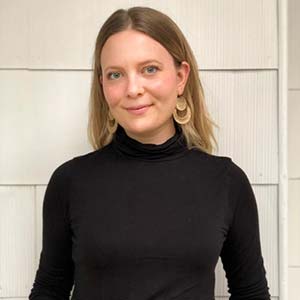 I graduated from MBA in Contemporary Art:  Sales, Display and Collecting, class of 2017.
1. What was your favorite classs in the program?
My favorite class by far was Art History with Mr. Daniel Lesbaches. He has such an impressive and lovely way of storytelling art history that he really is able to captivate the attention of every single one of his students. I learned more about art history in his class then I ever did through my 4 years of undergraduate study (where I studied art history as a minor). My second favorite class was Arts Management taught by professor Didier Saulnier. I enjoyed this course because he incorporated business and contemporary arts together, demonstrating how the arts can act and fit within a business setting and vice versa. We had the most amazing visits to contemporary collections with him, such as that of Renault and Société Générale, and that was absolutely amazing. My passion myself lies in combining contemporary arts with business, so it was thrilling to have this experience. 
2. What is your current position?
I am currently a Project Manager and Clients Relations of Cultus Artem, a New York based brand in which a traditionally trained perfumer from Grasse is launching her own perfume. We are officially launching in New York in March so we are keeping things still secret until then ;) Before this I was the Engagement and Membership Manager at Artpace San Antonio, which was my first job after IESA. I first went to Artpace to complete a Graduate internship and was offered a position afterwards. Artpace is an internationally renowned non-profit artist residency showing artists of the like as Felix Gonzales Torres, Christian Marclay, Mark Bradford and Maurizio Cattelan to name a few. 
3. What are the most important skills that you learned from the program that you use in your current position?
I learned how to talk about contemporary art, to express my thoughts and to speak confidently about my own opinions. The amount of experience you get at IESA visiting museums, galleries and collections and the opportunities to engage in thoughtful conversations about contemporary art is priceless. Furthermore, you are in the heart of Paris, there is art all around! I felt so empowered by this and truly felt that I was always being engaged in the arts. 
4. Is there anything else you would like to share with current students in the program?
I will say that when returning to the states, it was a huge impressive factor to future employers that I had studied in Paris, France. Use this to your advantage when searching for work, if in the United States. One last note, be sure to support one another. My friends and I who work in the arts are always supporting one another and sharing job opportunities with one another. It can become very competitive very quickly when working in the arts because there are not a ton of jobs and opportunities, so creating a support system can be beneficial. Always remember to have fun!