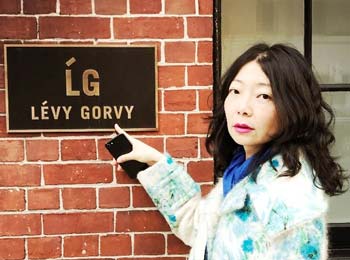 1. Which program did you graduate from?
MACAM Art culture Management
2. What was your favorite class in the program?
Art history: our professor Daniel Lesbaches is knowledgeable. He shares personal understanding and his experiences of art history. I like how he interacts with us, the approach is in a funny way not academic. 
Law: Was very useful and helpful for my future carrier. Mrs. De Noblet is efficient and I like the way how she explains clearly the cases, the law items… After classes no need to review a lot because I remembered the key content from the class.
What is your current position?
Actually, I am focusing on my projects (one for New York and the second for Beijing) and my own company who deals with art and culture, communication, event and management. The purpose is to make a bridge between art and business. 
3. What are the most important skills that you've learned from the program that you use in your current position?
The courses specialized in art helped me to refresh my mind because I was very new in this segment. My previous studies were more about business strategy and nothing related in art. I liked the design of this program because of it really beneficial to me professionally and personally for my projects.           
4. Is there anything else you would like to share with current students in the program?
It's a super intensive program. You have to be constant on your tasks because you will have to complete exhibitions, 2 theses, projects… It really is a self-learning program. 
First, I would recommend IESA for those who wants to pursue a career in the art industry and culture management, the initial network is very helpful and useful. Teamwork is very important. The projects will help people to practice team spirit. 
My advice is to read a lot and to share ideas then you can get an opinion, also keep a close relationship with your mentor frequently.