The best way to get a feel for student life at IESA is to come and see for yourself. If you are interested in knowing more about IESA's courses on the art market, why don't you come and meet us in person in Paris or in London? 
Open Days are an important part of the research process for prospective students. If you are considering different universities, there is no better way to find out more about a university and subject than attending an Open Day.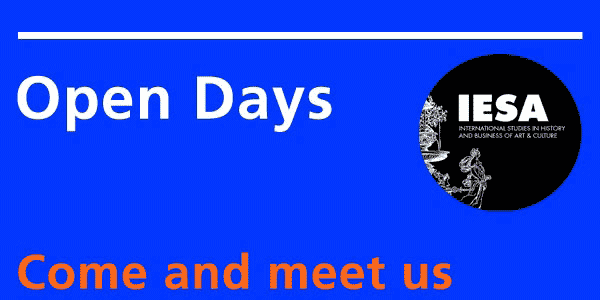 Here at IESA, our Open Days offer prospective students the opportunity to learn more about living and studying in Paris and London, learn about careers in the artworld and meet faculty, staff and alumni.
come and meet us in PARIS on:
Thursday 26 February, 6.30 - 8.30 pm at IESA premises 6, rue Froment 75011 Paris
Saturday 11th April, 2-5 pm at IESA premises 5, avenue de l'Opéra 75001 Paris 
come and meet us in LONDON on: 
Monday 16th March, 10am - 5 pm at the Sir John Soane's Museum, 13 Lincoln's Inn Fields, WC2A 3BP
Thursday 14th May, 6-8.30 pm at Senate house, Malet street, WC1E 7HU