We are so proud to welcome the January intake students to our programs.
Our students have a specific visit to a museum as part of orientation. 
The MBA in Contemporary art students and MBA in Arts&Cultural Management students visited the Pinault Collection at the Bourse de Commerce of their professors Daniel Lesbaches and Carolina Ariza. 
The Pinault Collection, located in the heart of Paris in the historic chamber of commerce near Les Halles, provides our students with a unique occasion to step into the shoes of a contemporary art collector and discover how François Pinault acquired and amassed the art works in this exciting new contemporary space.
The students also were able to attend the mounting process of the new exhibition.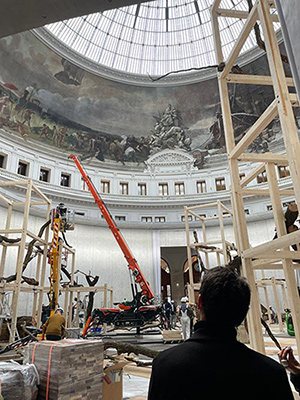 Students from our MBA in Arts&Luxury program visited the treasures of the Fontainbleau chateau with their professors Adriana Turpin and Camille Mestdagh. Our experts in decorative arts guided our new students through the state apartments of the chateau, which range in date from the 16th century to the 19th century historicists reconstructions of Louis Phillipe. They explored in detail the paintings and decoration of the gallery of François 1er hugely important for the development for 16th European decorative arts. They also studied the furnishings of the apartments created by Louis XVI and Marie-Antoinette in the 18th century. 
We wish a successful and meaningful year to all of our new students who joined in January.