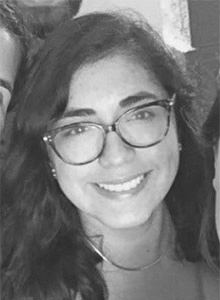 Valeria Alexandra is currently studying the MBA in Contemporary Arts: Sales, Display & Collecting.
1. Can you tell us what your academic and professional backgrounds were before joining IESA?
Before attending IESA I graduated from the University of Aberdeen with a degree in History of Art. The only professional background was an internship at Pace London in the summer of 2015.
2. Which program did you graduate from?
I graduated from the CASDC branch (Contemporary Art: Sales, Display and Collecting. 
3. What is your current position?
Currently I am the gallery assistant at The Nine British Art, Bury street in London.
Having done History of Art, I confirmed my passion for contemporary art. When I found the subjects that this course would entail I knew it would provide me with further understanding of this particular art scene. 
5. What was your favorite class in the program?
My two favourite classes were Art Law taught by Dr Christel de Noblet and Mounting Exhibition taught by Kathleen Ritter.
6. Is there a particular reason you wanted to study in Paris?
Paris is one of the most important art hubs in the world of art, and given my past knowledge of the language I wanted to have the opportunity to develop both professionally (by acquiring a masters) and personally (by fluently dominating a 4th language). 
7. What skills did you develop while studying the MBA in Contemporary Arts: Sales, Display & Collecting?
This course consisted of over 10 classes per semester, with coursework such as mid-term presentations on top of the finals. This course allowed me to further develop my organization skills and prioritizing the more important things. Additionally to that, as a class representative, I was able to expand my communication skills seeing I had to transmit the feelings of my peers to the administration and vice versa. 
An important skill I learned doesn't have to do with a specific course, but the MBA overall: time management and prioritizing tasks. 
8. Can you share a personal experience you enjoyed during your stay at IESA?
In our last class of Intellectual Property (which was also our last class of the day), our teacher had planned to teach us about auction houses. Then, one of the students found that there was an public panel discussion that had just started regarding the role of auction houses and their importance at a mere 10 minute walk. Instead of the class, our teacher decided to take us there and hear from proper professionals. It was an incredible experience to witness such a discussion.  
9. What piece of advice would you give to another student interested in signing up for the MBA in Contemporary Arts: Sales, Display & Collecting? 
Enjoy it. Enjoy the course because it is really helpful (this is from me, a girl with a background in just Art History) in having an understanding of how the art world works. And of course, enjoy the city! Paris is an amazing city and I am lucky to have called it home for 2 years. These memories are one of a kind! 
Don't be scared to move away from home, Paris is an extremely multicultural city with people from almost every nationality. The course is very thorough and will provide greater knowledge into the art scene, and the fieldtrips they take you on are unique experiences.