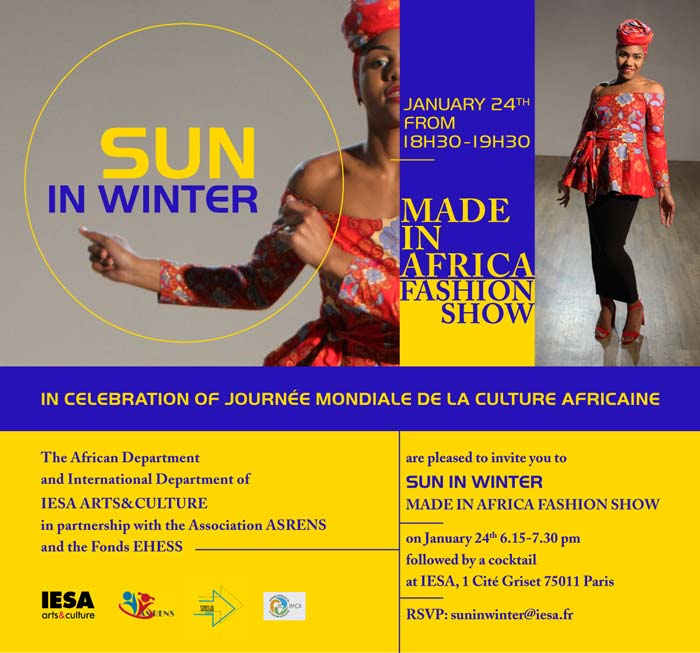 Programmed in celebration of the Journée Mondiale de la Culture Africaine (JMCA), The African Department and International Department of IESA ARTS&CULTURE in partnership with the non-profit association ASRENS and the Fonds EHESS are pleased to invite you to SUN IN WINTER: MADE IN AFRICA FASHION SHOW on Jan 24th from 6.30 -7.30 pm, followed by a cocktail at IESA ARTS&CULTURE, 
1 Cité Griset, 75011 Paris.
RSVP: via FB and/or suninwinter@iesa.fr
The aim of SUN IN WINTER is to celebrate the link between clothes and the school uniforms that are provided by the ASRENS association to young Congolese children so that they can attend school. 
Students from our MBA in Art & Luxury Management and Performing Arts Management are working hands-on with our partners to produce the show. 
More information on ASRENS non-profit association 
The Association Rebecca N'Samba «ASRENS» helps children in Congo to enroll in primary school by providing them with school uniforms and educational supplies. ASRENS helps 250 school children in need in the Democratic Republic of Congo.
FONDS EHESS
Created in 2011, the Fonds EHESS, in consonance with the EHESS's pursuit of a better understanding of the contemporary world, is a place where researchers and professionals work together to create synergies to develop greater social engagement on the part of the social sciences.