An art dealer buys and sells works of arts. He or she is the middleman between the artists and people or institutions looking to acquire work of arts: art collectors, galleries or museums.
Thanks to their extensive knowledge of art in general, art history and their professional experience, art dealers are able to assess the market value of work of arts and anticipate market trends.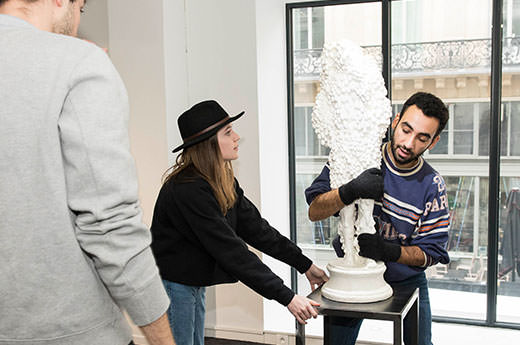 Dealing
Obviously, art dealers buy and sell works of art, which also involves negotiating prices and delivery. However, this ultimate goal is only made possible thanks two to other supporting activities: searching and networking.
Networking
Creating and nurturing a network of art collectors, gallerists, and other potential clients. This is often done by advising and working closely with clients on their collections.
Searching
Art dealers tend to spend a lot of time looking for works of art, in galleries, flea markets, by attending auctions or by sourcing works of art directly from clients. Also in order to find rare pieces they tend to travel to other cities and even to other countries. 
Skills and Qualifications
One of the most valuable skills of art dealers is their ability to appraise the quality and value of work of arts. Their trained eye allows them to spot potential emerging artists. More than a sales person they act as consultants who can work with their clients and advise them often over a long period of time.
It is also essential that they keep up with the trends of the markets, by following sales from the major auctions houses, visiting museums and galleries and reading art journals. It is more and more important that they are also innovative and entrepreneurial in an increasingly competitive market. They must also be good at managing a business.
How to become an art dealer?
To become an art dealer one should possess an extensive knowledge of art and the art market. This often means training with another dealer or in an auction house.
Many art dealers choose to focus on one particular art form (sculpture, painting, photographs, etc.), style or period. Specializing in one particular area can be a good idea, as it is nearly impossible to be knowledgeable in everything, but much more realistic to focus on one particular topic. By doing so, art dealers build up their reputation and are more likely to become renowned experts.
Graduating from a program in art business is a good way to prepare yourself. Famous art dealers got their foot in the door by first doing volunteer work or internships in local galleries or auction houses. 
Are you interested in working in the arts management industry? Here are more art job descriptions:
Artistic director job description
Art gallery manager job description