The trip started with a venue visit of the iconic Muziekgebouw (which literally means 'Music Building') followed by a concert "BLIND" and a special introduction from the artist. 
Founded in 2005 – Muziekgebouw is the most important stage in the Netherlands for contemporary music. The building was designed by Danish architectural firm 3XN and has won various Dutch and international architectural prizes. It consists of a multifunctional state of the art 725 seats chamber music hall, several foyers for workshops and master classes, a smaller hall seating 100, and extensive conference and catering facilities.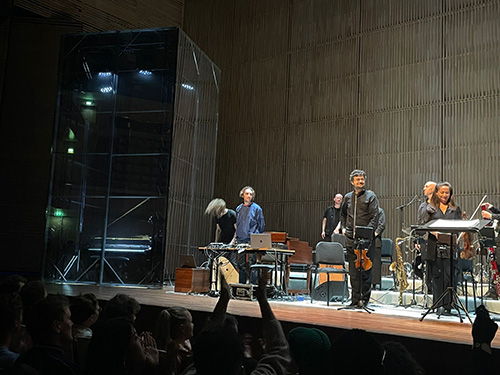 More than 250 concerts per season in a great variety of genres including classical and electronic music, global and jazz are on the program. The ceiling, walls, chairs and floor of their main concert hall are all flexible and moveable, which make it a very suitable hall for intimate chamber music as well as bigger ensembles.
The Muziekgebouw is lauded for its great acoustics, and guests tend to agree that — as the venue promotes itself — it is the 'Concert Hall of the 21st Century.'
Musicians and critics acknowledge the excellent acoustics of this space which is why it was the perfect beginning to an action packed trip!
Discover more about the MBA program and its outcomes.